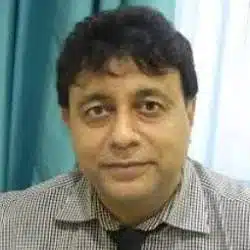 Dr. Sandip Kumar Bhattacharya
Nephrologist Senior Consultant MBBS, MD, DM, Kolkata, India Works at Apollo Gleneagles Hospital, Kolkata 31 years of experience
Dr. Sandip Kumar Bhattacharyya is a well-known Nephrologist/Renal Specialist in Kolkata, with a thriving experience of more than 31 years.
He is a member of the Indian Society of Nephrology, East Zone, Indian Medical Association, West Bengal Medical Council, International Society of Nephrology (ISN), American Society of Nephrology, European Renal Association, and International Society of Organ Transplantation.
His expertise lies in the treatment of Lithotripsy, Kidney Transplant, Kidney Stone Treatment, Dialysis / Haemodialysis, Chronic Kidney Disease (CKD) treatment, Kidney Failure Treatment, Laparoscopic Nephrectomy, and Renal (Kidney) Surgery.
Dr. Sandip has numerous papers published in national as well as international peer-reviewed journals.