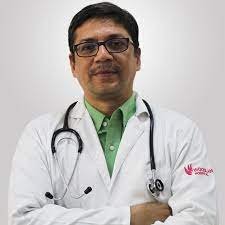 Radiation Oncologist Senior Consultant DNB, MD, Diploma, MBBS, Kolkata, India Works at AMRI Hospitals, Saltlake 20 years of experience
Dr Prasenjit Chatterjee is one of the well-known Radiation Oncologists in Kolkata and the Northeast with 20 years of experience.
His areas of service are Radiation Therapy, Chemotherapy and solid Cancers, Brachytherapy, Proton Therapy, and Stereotactic Radiosurgery.
He is an award-winning doctor who has shared his expertise nationally and internationally on different platforms such as conferences, workshops, and NGOs.
He has also published books and articles in a weekly magazine called "HEALTH."
He is actively involved in raising cancer awareness programmes and interactions through national and local media agencies.
He is a member of the Indian Medical Association, Association of Radiation Oncology of India, Indian Cooperative Oncology Network, Paediatric Radiation Oncology Society, International Lung Cancer Society, Cancer Patients Aid Association, American Society of Radiation Oncology, and European Society of Medical Oncology.
He regularly volunteers at medical health camps and CME in the northeast region of India once every month in tie-ups with AMRI Hospitals, Kolkata.
Dr Chatterjee speaks English, Bengali, and Hindi fluently.