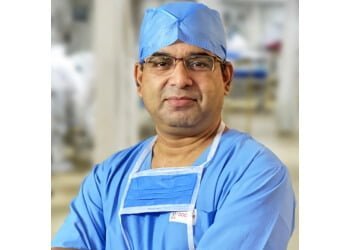 Neurosurgeon Consultant MCh, DNB, MS, MBBS, Kolkata, India Works at Ruby General Hospital, Kolkata 19 years of experience
Dr. Prasanna AV is a well-known Neurosurgeon with +19 years of experience in the field of brain and spine surgery.
He completed his MBBS in 1994 from Govt Medical College, Mysore, MS from BJ Medical College Pune in 1998, followed by DNB in the same year. In 2001, he did his M.Ch from Seth GS Medical College and KEM Hospital, Mumbai.
Dr. Prasanna is an expert neurosurgeon reputed to perform brain tumour/spine/stroke and trauma surgeries. He also performs various surgeries of the sub-specialities of the spine and brain such as, disc prolapse, microscopic lumbar discectomy or decompression, microscopic anterior cervical discectomy, endoscopic discectomy, spinal decompression with or without fusion, degenerative disc diseases and minimally-invasive spinal fusion and advanced instrumentation. He also performs total disc replacement, vertebroplasty, kyphoplasty surgeries, and surgeries for spine tumours. 
His scope of work also includes, microsurgery for brain tumours, endoscopic brain surgery, skull base surgery, brain trauma surgery, brain aneurysms & AVM, surgery for congenital cranial deformity and craniofacial surgery with FMS (facio- maxillary surgery). 
During his career, he has performed 9,000 surgeries and treated 60,000 outpatients. 
He also performs brain surgeries for epilepsy, stroke, pituitary tumours, acoustic Schwannoma, cranioplasty and also treats pediatric neurosurgery.
Dr. Prasanna has co-authored few papers for a few publications.