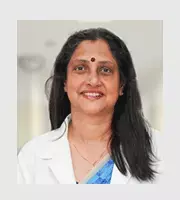 Dr. Aviva Pinto Rodrigues
Gynaecologist and Obstetrician Infertility Specialist Consultant Diploma, MD, MBBS, Bangalore, India Works at Nova IVI Fertility, Bangalore 20 years of experience
Dr. Aviva Pinto Rodrigues is a gynecologist and Reproductive Medicine specialist with 20+ years of experience.
She completed her MBBS from Kasturba medical College, Mangalore and MD from Kasturba medical College, Mangalore with best Outgoing Student Award from the Manipal Academy of Higher Education.
She has a Diploma in Reproductive medicine from University of Kiel, Germany.
Dr. Rodrigues did a Preceptorship Advanced Reproductive Care Certificate Course at the Assuta Hospital in Tel Aviv Israel.
She completed her training at St. Philomina's Hospital, Bangalore and Sathya Sai General Hospital.
Her interest lies in Genital Tuberculosis, Infertility, Repeated Implantation Failure, Recurrent Pregnancy Loss and Mild Stimulation Protocols, especially in patients with Diminished Ovarian Reserve.