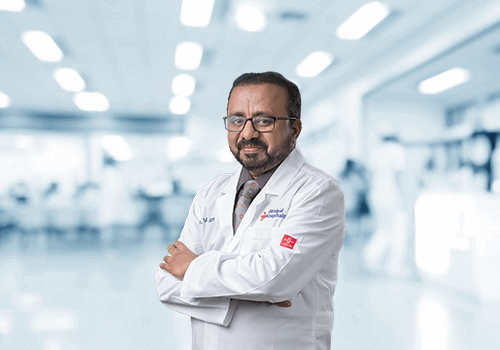 Orthopaedic and Joint Replacement Surgeon Arthoscopy and Sports Medicine, Hip Surgery, Knee Surgery, Consultant MRCS, MBBS, MBBS, Bangalore, India Works at Manipal hospitals Life's On, Whitefield 25 years of experience
Dr. V G Rajan is an orthopedist who specializes in knee surgery. He has been working in Bangalore since 2013, after returning from the United Kingdom.
Total Knee/Hip Replacement, Sports Injury-minimally invasive keyhole surgery, Cartilage, Meniscus Surgery, Trauma Surgery, Patella- Femoral Alignment Surgery, Partial Knee Replacement, Arthroscopy ACL Reconstruction, Cartilage Removal and Repair, Simple and Complex Ligament Repair and Reconstruction are among the treatments provided by Dr. V G Rajan.
During his time in the UK, he received fellowship training in arthroscopic knee cartilage surgery, ligament restoration, and all sorts of knee replacement surgery, in addition to successfully completing his FRCS Trauma & Orthopaedic training.
Dr. V G Rajan has continued to develop experience in specialist knee surgery, publishing multiple scientific publications in peer-reviewed international journals and teaching on surgical skills courses and training programmes in our country and abroad.
Dr. Rajan received Membership of the Royal College of Surgeons of Edinburgh (MRCS) in 2006 and Fellowship of the Royal College of Surgeons of Edinburgh in Trauma and Orthopedic Surgery (FRCS Orth) in 2012.
He is a member of the Karnataka Medical Council, the General Medical Council of the United Kingdom, the Karnataka Orthopaedic Association, and the Indian Society of Hip and Knee Surgeons.
He has multiple scientific articles in international peer-reviewed journals.
He can communicate in languages like English, Hindi, Kannada, Telugu and Tamil.