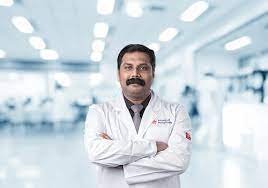 Cosmetic Surgeon physician, Surgeon Consultant DNB, MBBS, Bangalore, India Works at Manipal hospitals Life's On, Whitefield 21 years of experience
With 21 years of expertise, Dr Sunil Kumar K S is one of the top Plastic & Cosmetic Surgeons in Bengaluru.
He specializes in Abdominoplasty, Liposuction, Buttock Liposuction, Thigh Liposuction, Vaser Liposuction, Lip Reduction / Augmentation, Breast Augmentation/Mammoplasty, Gynecomastia Treatment / Surgery, Lipoglandular excision, Botox Injections, Axillary breasts, Trauma Reconstruction, Hand & Micro surgery, and lower limb reconstruction.
He received his MBBS from Siddhartha Medical College in 2000 and his National Board Diploma in Plastic Surgery from Manipal Hospital in 2015. 
In 2015, he finished a fellowship in hand and micro surgery at Ganga Hospital in Coimbatore. He has been a registered Medical Practitioner with the Karnataka Medical Council since 2004.
He has over 5 years of plastic surgery experience and has performed all types of plastic and aesthetic surgeries. 
He received second prize for a paper presentation on Rhinoplasty in March 2013 at the Surgical Society of Bengaluru.
Dr. Sunil Kumar K has delivered papers at various international and national conferences on aesthetic and cosmetic surgery.
He can communicate in languages like English, Kannada, Telugu, Tamil, and Hindi.