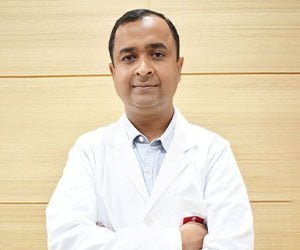 Medical Oncologist Director MBBS, MD, DM, Faridabad, India Works at Metro Hospital and Heart Institute, Faridabad 17 years of experience
Dr. Sumant Gupta is a well-known Medical Oncologist with 17 years of experience.
Specialty interests are Adult Medical Oncology and Hemato-oncology, Pediatric Hemato-Oncology and Bone Marrow Transplantation
He received TYSA Young Scholar Award for the best DM Medical Oncology.
He completed his MBBS from Rajiv Gandhi University of Health Sciences, Bangalore, India in 2005, MD in General Medicine from Alluri Sitaram Raju Academy of Medical Sciences, Eluru in 2010, and DM in Oncology from Cancer Institute (WIA), Chennai in 2015.
Research and publications by him Neutrophil response kinetics after G-CSF and Pef G-CSF usage post-chemotherapy, Journal of Clinical Oncology & Feasibility of combining humanized anti-epidermal growth factor receptor monoclonal hR3 (nimotuzumab) with chemotherapy.