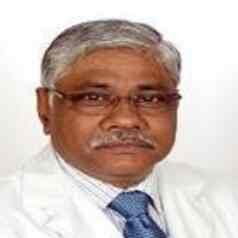 Dr. Shyam Kishore Shrivastava
Radiation Oncologist Senior Consultant MBBS, MD, Mumbai, India Works at HCG Cancer Centre, Mumbai 40 years of experience
Dr. Shyam Kishore Shrivastava is a respected Radiation Oncologist with 40+ years of experience in the field.
He is an Active Member of various national and international organizations including Maharashtra Medical Council (MMC), Association of Radiation Oncologist of India (AROI), Indian Medical Association (IMA), Indian Nuclear Society (INS), American Society for Therapeutic Radiology & Oncology (ASTRO), European Society for Therapeutic Radiology & Oncology (ESTRO), International Psycho-Oncology Society (IPOS), Federation of Asian Associations of Radiation Oncology (FARO), Association of Radiation Oncologists of India (AROI), etc.
With his brilliant practice over the years, he has won awards such as the Academic Excellence Oration (Professionalism for Oncology Profession) of Dr. B Barooah Cancer Institute, Guwahati, Assam, "Lifetime Achievement Award", Association of Radiation Oncologists' of India MP&CG Chapter and MGM Medical College Indore, "Dr. TB Patel Oration Award" at Gujarat Cancer & Research Institute (GCRI), Ahmedabad, etc.
He is an expert member of various Government and non-Government organizations for developing radiotherapy facilities and human resources on a global level.
He has over 240 publications in peer-reviewed scientific journals & book chapters and has carried out over 95 research projects related to radiation oncology.
Dr. Shrivastava specializes in various aspects such as Brachytherapy (Internal Radiation Therapy), External Beam Radiation For Prostate Cancer, Cranial Cyber-Knife Radiosurgery, Breast Cancer Management, and Image-Guided Radio Therapy (IGRT), etc.