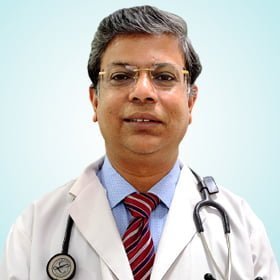 Interventional Cardiologist Senior Consultant MCh, MS, MBBS, Noida, India Works at Kailash Hospital and Heart Institute, Noida 21 years of experience
Dr. Satish Mathew is a cardiologist with 21+ years of experience.
He has independently performed more than 4000 open heart surgeries and 20000 open heart surgeries till date.
He is member of Delhi Medical Council and Indian Association of Cardiovascular and Thoracic Surgeons.
Dr. Mathew is one of few surgeons performing complicated surgeries like combined procedures of CABG along Valve Replacements, off-pump CABG and peripheral vascular bypasses.
He has done MBBS from University of Pune; MCh from GB Pant Hospital and MS from Punjab University.
He has expertise in open heart surgeries including valve replacements, CABG, PDA ligation, LA myxoma excision, Pulmonary Endarterectomy, carotid endarterectomy, Aorto Bifemoral Grafting, Bentall operation, Proximal Aortic surgery and peripheral arterial bypass.