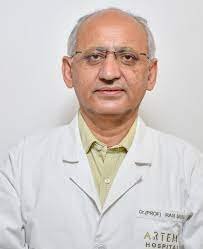 Orthopaedic and Joint Replacement Surgeon Arthoscopy and Sports Medicine, Knee Surgery, Chief MCh, MS, MBBS, Gurgaon, India Works at Artemis Hospital, Gurgaon 31 years of experience
Dr. Ravi Sauhta is orthopedics and joint replacement surgeon with 31+ years of experience.
His areas of expertise include hip replacement, trauma surgery, knee replacement, physiotherapy for sports injury rehabilitation, orthopedic physiotherapy, joint replacement surgery, elbow replacement, minimally invasive hip correction and plevic acetabular fracture services.
He is a life member of Indian Orthopedic Association, World Orthopedic Concern, Haryana Medical Council, Bombay Medical Council, IMA, Bombay Orthopedic Society, Indian Foot Society, ISKSAA, Trauma Society of India, AO Trauma Association, founder member of Indian Orthobiologist Society (IBOM), Indian Orthopedic Global Academy (IOGA), Gurgaon Orthopedic Society (GOS), Indian Rheumatology Association, Indian Health Organization, National Academy of Medical Sciences, Delhi Orthopedic Association, Indian Medical Association (IMA), Maharastra Medical Council and AO Trauma Foundation.
Dr. Ravi has completed fellowship and training in Pelvi-Acetabular Surgery and Adult Joint Reconstruction from Regions Hospital under the University Of Minnesota.
He has fellowship training from US and Korea for arthoplasty and spine.
He has more than 20 Scientific publications to his credit.