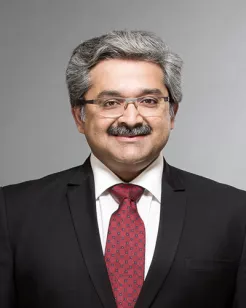 Nephrologist Senior Consultant Fellowship, MCh, MS, MBBS, Bangalore, India Works at Aster CMI Hospital (Hebbel) Bangalore 22 years of experience
Dr. Ravi Gopal Varma is a renowned Nephrologist, practicing successfully for more than 22 years.
He has expertise in Functional and Stereotactic Neurosurgery. He carries out surgery for Movement Disorders, Chronic pain and Epilepsy and deals with all branches of Neurosurgery including Paediatric, Vascular and Endoscopic Neurosurgery.
The credit of spearheading first successful DBS surgery for Neuroacanthosis in India and third in the world goes to him.
He pioneered the MCh programme to train Postgraduate doctors in Neurosurgery at the Institute of Neurosciences, MSRMC, Bangalore
Besides, he inducted the DBS programme for the treatment of Parkinson's disease at NIMS, Hyderabad, KEM Hospital, Mumbai and Apollo Hospital, Hyderabad respectively.
He was selected for a DBS workshop with advanced training in the Netherlands, as a part of a prestigious Indo-Canadian collaboration.
He was invited as the Chairman of International Conference on Epilepsy (EPICON), held at M. S Ramaiah Memorial Hospital, Bangalore, 11th and 12th November 2011.  
He enjoys the membership of a number of prestigious associations like Neurological Society of India, Bangalore Neurological Society, Indian society for stereotactic and functional Neurosurgery (ISSFN), and Indian Society for pediatric Neurosurgery.