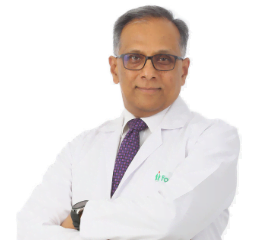 Neurosurgeon Director Fellowship, MCh, MBBS, Bangalore, India Works at Fortis Hospital, Bangalore (Bannerghatta Road) 31 years of experience
Dr. Rajakumar D V, or Dr. Deshpande V Rajakumar, is a Neurosurgeon with 31+ years of experience.
He is Bangalore's first Neurosurgeon to perform Pedicle Screw Fixation for Spine Injuries.
His clinical interests include minimal access surgery of brain and spine, endoscopic brain tumor removals, Cerebrovascular Diseases and skull base tumors surgery.
He has presented papers on the Endoscopic Approach to the Skull Base at the International Congress of Skull Base at San Diego and on several approaches to the brain and spine.
Dr. Deshpande has been a member of various organizations such as the Neurological Society of India, Skull Base Society of India, Bangalore Neurological Society, Congress of Neurological Surgeons, USA and Asian Congress of Neurological Surgeons, Japan.
He has helped to develop the Cadaver Laboratory at the Harper Hospital, carrying out many dissections of the human skull and brain.