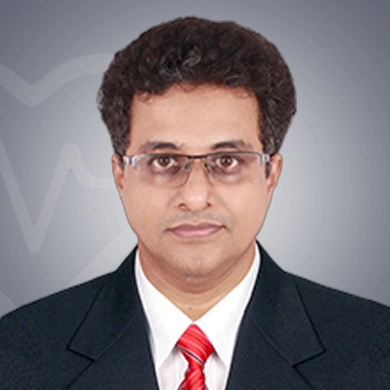 Pediatric Oncologist Consultant FRCP, MD, MBBS, Bangalore, India Works at Rainbow Children's Hospital & BirthRight by Rainbow, Bangalore 23 years of experience
Dr. Raghuram C. P is a well known Paediatric Oncologist, with experience of more than 23+ years.
He is proficient in treating children suffering from Cancer, Leukaemia, Lymphoma.
He also offers treatment for Brain Tumors, solid Tumors like Wilms Tumors, Neuroblastomas, Bone Tumors, Soft Tissue Sarcomas, Germ Cell Tumors, and Retinoblastomas etc.
He is highly skilled in doing Bone Marrow Transplantation for blood and immunological problems.
He takes keen interest in treating children suffering from Anaemia, Low Platelet Counts and Clotting Problems.
He regularly takes parts in national and international workshops and conferences and presents papers in them.
He has the membership of numerous prestigious associations such as Royal College of Paediatrics and Child Health, UK, Indian Academy of Paediatrics and National Academy of Medical Sciences, New Delhi.
He is engaged in research and has several publications to his credit.
After graduating with MBBS, from Dr. NTR University of Health Sciences Andhra Pradesh in 1996, he pursued MD in Pediatrics in Dr. NTR University of Health Sciences Andhra Pradesh in 1999. Thereafter, he pursued FRCP from Royal College of Physician, Edinburg in 2000.  Later he undertook Paediatric Higher Specialty Training at the Eastern Deanery Cambridge, UK. He further took training in Paediatric Oncology  at various tertiary Paediatric Oncology centres in UK like:  Christie Hospital, Manchester, Addenbrookes Hospital, Cambridge, and Bristol Royal Hospital for Children, Bristol.