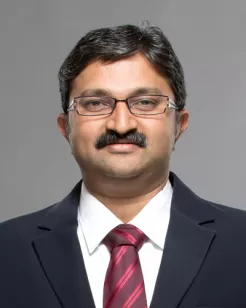 ENT Surgeon Consultant DNB, MS, MBBS, Bangalore, India Works at Aster CMI Hospital (Hebbel) Bangalore 14 years of experience
Dr. Prateek P Nayak is a renowned ENT Surgeon, with experience of more than 14+ years.
He performs advanced surgeries such as Cochlear Implantation, Laser Otolaryngologic Procedures, Microdebrider Aided Surgeries for Sinonasal Diseases and Scar less Endoscopic Procedures.
He has special acumen in carrying out Minimally Invasive and Microscopic Middle Ear and Mastoid Surgery, Endoscopic Endonasal and Skull Base Surgeries including Endoscopic CSF leak repair, Endoscopic Pituitary Surgery, and other Neuro-Otological procedures.
He is proficient in Cosmetic Otolaryngology, Lobuloplasty [Ear Lobe Repair], Rhinoplasty, Septorhinoplasty, and Otoplasty
He also offers treatment for Benign and Malignant Tumor of Head and Neck and does Reconstructive Surgery including Free Flap Reconstruction.
He has been honored with numerous prizes for his valuable contributions to Medical Sciences and the arena of ENT.
He has the membership of Indian Medical Association (IMA).
After graduating with MBBS from Jawaharlal Nehru Medical College, Belgaum, in 1999, he pursued MS in ENT in All India Institute of Medical Sciences (AIIMS), New Delhi, in 2003. Then he pursued DNB in ENT under National Board of Examinations, New Delhi, in 2004. He undertook training in various Advanced Surgical Procedures including Cochlear Implantation in India, Italy and France.