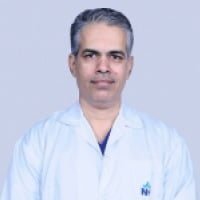 Paediatric Nephrologist Consultant DNB, MS, MBBS, 20 years of Experience
Dr. Prashanth M Kulkarni is a nephrologist and kidney transplant specialist with 20+ years of experience.
His areas of expertise include Renal cyst decortications, Robotic and Laparoscopic Surgery, Nephrectomy, Endourology, Adrenalectomy, Pylelithotomy, Pyeloplasty and Ureteroureterostomy.
He has performed more than 35 laparoscopic surgeries including renal cyst decortication, adrenalectomy, nephrectomy, pyeloplasty, ureteroureterostomy and pyelolithotomy.