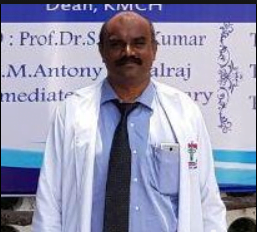 Orthopaedic and Joint Replacement Surgeon Consultant MS, Diploma, MBBS, Chennai, India Works at Apollo First Med Hospitals, Kilpauk 20 years of experience
Dr Prabhakar Singh R is a  leading and skilled Orthopedic Surgeon who has been practicing orthopedic surgeries for +20 years.
His professional affiliations with medical societies include his lifetime memberships of, the Indian Medical Association, the Indian Orthopedic Association, the Tamil Nadu Orthopedic Association and the Michigan Orthopedic Society.
Dr Prabhakar Singh R graduated from Kilpauk Medical College, De.MGR Medical University, 1998 and earned a Diploma in Child Health from Stanely Medical College in 2001. In 2011, he did his MS from Coimbatore Medical College.
An expert orthopedic surgeon, he specialises in performing total hip replacement, key hole, bunion, bone graft, spinal disc, joint replacement and cartilage-related surgeries. He also treats, foot drop, foot injury, soft tissue injury management, bone trauma, knee pain, column traumatology, heat therapy, does foot assessment and high-risk wound care.
Dr Prabhakar Singh R has special interest in pediatric orthopedics, spine & complex trauma and joint replacement. 
He has co-authored few papers for reputed journals.