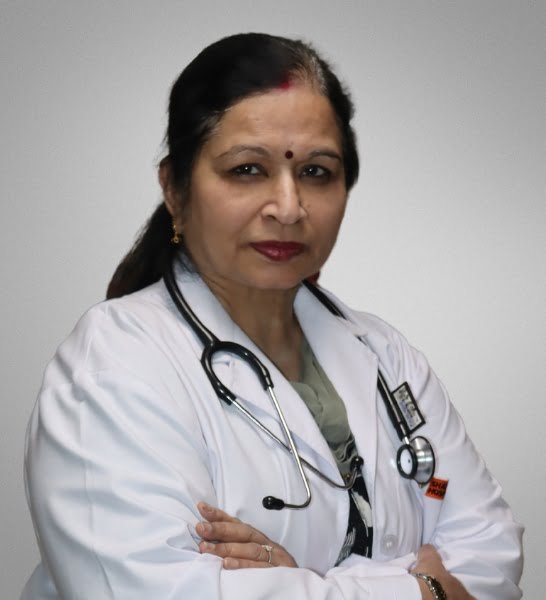 Gynaecologist and Obstetrician Professor MD, MBBS, Greater Noida, India Works at Sharda Hospital, Greater Noida 38 years of experience
Dr Neerja Goel is an outstanding Obstetrics and Gynaecologist who has been serving in this field for 38+ years.
Besides Obstetrics and Gynaecology, her other areas of interest are Reproductive Endocrinology, High-risk pregnancy, Preventive Oncology, Menopause, Anovulation, and Endoscopic Surgery.
Dr Goel is a skilful surgeon, has devised a lot of clinical skills and efficient surgical techniques.
She is awarded the Fellow Of National Academy Of Medical Sciences (FAMS), Fellow Of Indian College Of Obstetricians And Gynecologists (FICOG)  Fellow Of International Medical Sciences Academy (FIMSA), and Founder Fellow Of Geriatric Society Of India (FFIGS). 
She has had more than 100 publications, written 13 books and 45 chapters in various national and international books. Her books are popular, often revised and updated. One of her books, "State Of The Art–Vaginal Surgery" was translated into many languages including Spanish.
She has delivered more than 100 scientific lectures including orations and given more than 45 research presentations.
As an academician, she is an excellent teacher and remarkable guide for MD thesis with many of her students awarded gold medals both at the local and national levels.
In 2011, she was awarded the highest State Award by the then Chief Minister, Mrs Sheila Dixit for her service to the medical community.
She is a life member of 7 academic bodies and has held many important positions as Office Bearer in many organisations; she is also a patron of NARCHI and AOGD.
Dr Goel also dedicates her time to a special field of obstetrics and gynaecology for an underprivileged class of patients.
She speaks English and Hindi.