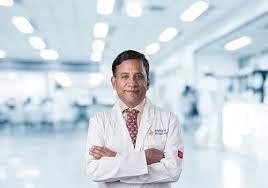 Cardiac Surgeon Consultant MCh, MS, MBBS, Bangalore, India Works at Manipal hospitals Life's On, Whitefield 32 years of experience
Dr. Mukundan Seshadri, is a Chief of Cardiovascular and Thoracic Surgery and has performed over 7700 open-heart surgeries with his 32 years of experience.
His special interests in cardiac surgery include coronary artery reconstruction for diffuse coronary artery disease employing onlay arterial patches, minimally invasive cardiac surgery, and valvular heart surgery, which includes mitral valve repair as well as replacement of mitral and aortic valve.
Dr. Mukundan Seshadri is interested in valve replacement treatments such as atrial fibrillation and left atrial reduction surgery, stentless aortic valve replacement, and paediatric heart surgery.
His Vascular interests include the Bentall approach for ascending aortic root replacement, ascending aortic repair with valve sparing, and descending aortic surgery. He is also interested in VATS for a variety of conditions such as empyema, bullectomy, thoracic sympathectomy, decortication, and lung biopsy, as well as other thoracic procedures such as lobectomy and pneumonectomy.
He has earned his degree in MBBS, MS in General Surgery, and MCh in Cardio Thoracic and Vascular Surgery.
He received gold medals in physiology and pathology, silver medals in general surgery, and gold medals in cardiovascular and thoracic surgery.
Dr. Mukundan Seshadri has more than 50 publications in national and international journals.
He also has more than 75 presentations at national and international conferences.
He is fluent in languages like English, Hindi, German, Tamil, and Kannada.