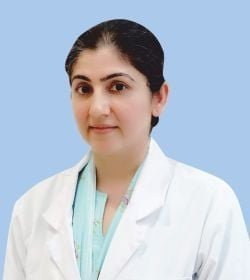 Ophthalmologist Cataract Surgeon, Consultant Fellowship, Fellowship, Noida, India 24 years of experience
Dr. Madhu Karna is an experienced and skilled Ophthalmologist with +24 years of experience in the field of treating conditions of the eye.
Her affiliations with medical societies include memberships of the, All India Ophthalmological Society, Delhi Ophthalmological Society, Noida Ophthalmological Society, Ludhiana Ophthalmological Society, Strabismus and Pediatric Ophthalmology Society of India and the World Strabismus and Pediatric Ophthalmology Society.
Dr. Karna completed his MBBS in SMS Medical College, Jaipur in 1997. She then pursued PG from Jawaharlal Nehru Medical College, Ajmer in 2000. Then she earned three fellowships from the Sankara Nethralaya, Chennai, where she also did a fellowship in super-speciality training and LASIK, FemtoLASIK and SMILE training at New Vision Laser Centres, Vadodara.