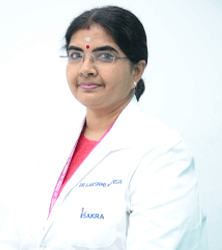 Ophthalmologist Ocular Oncologist, Oculoplasty Specialist, Visiting Consultant MBBS, DNB, Fellowship, Bangalore, India Works at Sakra World Hospital, Bangalore 29 years of experience
Dr. Lakshmi Mahesh is a well-known Ophthalmologist with extensive experience of over 29+ years in the field.
She held the esteemed position of President of the Oculoplastic Association of India (OPAI), Former General Secretary Oculoplastic Society of India, and member of All India Ophthalmological Society, Karnataka Opthamalic Society, and Oculoplastic Association of India.
She received the 2011 AIOS-APOS Santosh Honavar Award for best paper in Lacrimal, the 2015 AIOS Sujatha Savithri Rao Award for best paper in Orbit & Oculoplasty and the prestigious FAICO from AIOS.
Dr. Mahesh has accomplished and trained in over 15 national and international fellowships in Oculoplastic Surgery in her career.
She has done her MBBS from the Stanley Medical College, Chennai in 1984, and also DNB – Ophthalmology from Sankara Nethralaya, Chennai in 1990.
She has trained more than 30 fellows in India and abroad in the field of Oculoplasty and is also a reviewer for many Ophthalmology Journals and a Sub-specialty Society Representative for Indian Journal of Ophthalmology (IJO).
She has her expertise in Eyelid Procedures such as Blepharoplasty – Surgery of the upper and/or lower eyelids, Ptosis Repair – Elevating droopy eyelids, Evaluations of eyelid laxity, lagophthalmos (improper eyelid closure), and malposition, and Orbital Procedures such as Treatment and management of orbital tumors, Surgeries for Graves' disease – Thyroid eye disease, Evaluation and repair of fractures, and Orbital fracture repairs.