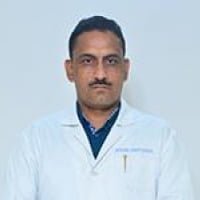 Kidney Transplant Renal Transplant MBBS, MD Medicine, DM Nephrology, 10 years of Experience
Dr. Kamal Kumar Kaswan is an astute nephrologist & transplant medicine expert with 10+ years of experience in the management of chronic conditions of the kidney. 
He has completed his DM (Nephrology) at the Institute of Kidney Disease Research Center and Institute of Transplant Science from Ahmadabad, Gujarat.
He completed MBBS from JSS Medical College, Mysore, MD (Internal Medicine) from KMC, Manipal and DM (Nephrology) from SVIMS, Tirupati.

In his decade long career, Dr. Kamal Kaswan has made numerous case presentations in National level conferences & has also been invited as a speaker in multiple events at regional and national level.