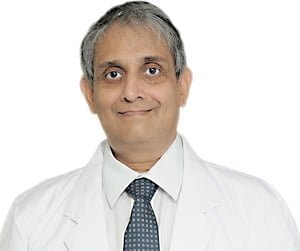 Cardiac Surgeon Director MBBS, MS, MCh, Chennai, India Works at MGM Healthcare, Chennai 30 years of experience
Dr K R Balakrishnan is a renowned and reputed Cardio-thoracic surgeon in Chennai.
With a thriving experience of over 30 + years, he has been credited with India's First LVAD and HVAD pump implant as destination therapy.
Dr Balakrishnan has done his MBBS from JIPMER, MS (General Surgery) from the eminent AIIMS,Delhi . Following which he did his McH (Cardio thoracic Surgery) from KEM Hospital, University.
He has been instrumental in starting India's First Comprehensive Centre for Heart Failure Management at Fortis Malar Hospital, Chennai.
Dr Balakrishnan has got the opportunity to work with Sir Brian Barratt –Boyes, Green lane Hospital, New Zealand and Dr Albert Starr at Oregon Health Science University and St. Vincent Hospital, USA.
Dr Balakrishnan is also actively engaged with various institutions to develop Pulsatile and continuous flow LVADs (Left Ventricular Assist Device) and molecular biology of ventricular hypertrophy.
Dr Balakrishnan is first cardiologist in India to successfully perform HVAD implant surgery, and LVAD implant surgery as destination therapy.