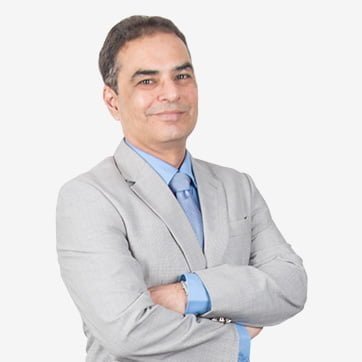 Ophthalmologist Cataract Surgeon, Glaucoma Surgeon, Consultant MBBS, MS, Mumbai, India Works at Global Hospitals, Mumbai 20 years of experience
Dr Gul J Nankani is one of the popular surgeons in the field of ophthalmic in India.
He has over 20 years of experience and has operated at several eye camps in Kenya, Ethiopia and Lebanon.
He has masters in Surgery (MS Opthomolgy) from Kasturba Medical College, Mangalore and completed his MBBS from the reputed Grand Medical College.
Dr Nankani took training in opthomolgy from Moorfields Eye Hospital, London and the Royal Free Hospital, London. Following which  he did his fellowship in Anterior Segment Ophthalmology from L.V Prasad Eye Institute, Hyderabad, India
He was an honorary consultant at Leelavati Hospital, Mumbai. He is aslo a visiting consultant at the Central Private Hospital, Sharjah, UAE.
He is a known expert in phaco-emulsification cataract surgery by No Injection, No Stitch and No Patch method (topical cataract surgery) and has performed more than 12,000 surgeries.
He has a vast experience in Refractive surgeries like LASIK and Implantable Contact Lenses, through which he has been able to provide customized visual rehabilitation with spectacle-freedom to his cataract patients.
He is an active member of American Academy of Ophthalmologist, All India Ophthalmic association ,Bombay Ophthalmologists Association
Dr Nankani augments his skills by attending various national and international conferences.