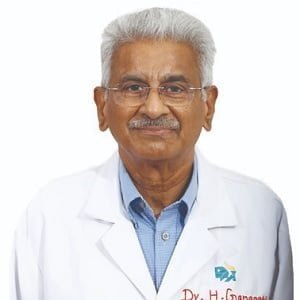 ENT Surgeon Consultant MNAMS, DLO, MS, MBBS, Chennai, India Works at Apollo Hospitals, Greams Road, Chennai 44 years of experience
Dr. Ganapathy H is an ENT specialist or Otorhinolaryngologist with 44+ years of experience.
He is a recipient of Dr. T.M.A Pai Gold Medal for the best outgoing student; First in MBBS social & Preventive Medicine; Dr.P.V. Subba Rao Memorial Prize; Mysore Free Mason's Lodge Golden Jubilee Prize; Dr. Arumugam Gold Medal and Pfizer Gold Medal for Medicine.
He is a member of Association of Otolaryngologists of India, Neurotologic & Equillibriometric Society of India, Inologic Society of India and Indian Medical Association.
He has many research publications in both national and international journals.