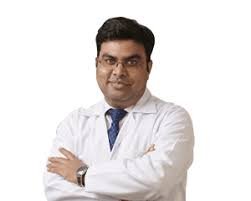 Nephrologist Associate Director DM, MD, MBBS, Faridabad, India Works at Asian Institute of Medical Sciences, Faridabad 15 years of experience
Having 15+ years of experience in Nephrology, Dr. Upadhyay has an excellent track record as a Nephrologist.
He has been involved in more than 200 transplants having patients ranging from paediatric to geriatric age group, handling kidney transplant and critical care nephrology.
Moreover, Dr. Upadhyay is an expert in providing services to OPD, in-patient and ICU (medical & surgical); regularly does haemodialysis on an OPD basis, SLED, CRRT and Plasmapheresis; takes kidney biopsy of both native and transplanted kidney, and follows through CAPD and kidney transplant patients.
In 2009, he established the Nephrology Department at Sarvodaya Hospital & Research Centre, Faridabad.
He is a member of the Indian Society of Nephrology, Delhi Nephrology Society, and the Indian Society of Organ Transplantation.
He has 6 publications to his credit in national journals and annuals.