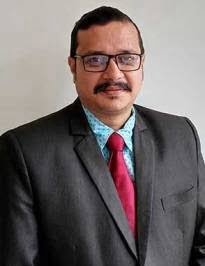 Radiation Oncologist Senior Consultant MD, MBBS, Kolkata, India Works at HCG EKO Cancer Centre, Kolkata 14 years of experience
Dr Ayan Basu is a Clinical Oncologist with 14 years of experience.
Dr. Ayan's major areas of interest include brain tumours, head and neck cancers, lung cancer, gynaecological & prostate cancer.
He is trained in Advanced Radiation Oncology techniques in England, Denmark & Germany.
He has also commissioned and successfully established state-of-the-art Radiation Oncology facilities at two of the largest comprehensive cancer centres in India and abroad.
He has completed his MD from a reputed university in Orissa followed by a Senior Registrarship from Tata Memorial Hospital, Mumbai.
He previously served as the Head of Radiation Oncology at several comprehensive cancer care centres equipped with Respiratory Gating, Volumetric Arc Therapy, IGRT, SRT, PET-based IGRT, IMRT, 3DCRT & Brachytherapy facilities.
He has several publications on the same in reputed International & Indian medical journals.