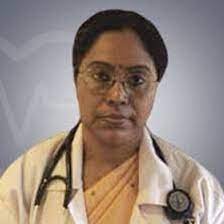 Dr. Arundhati Chakraborty
Radiation Oncologist Principal Consultant MD, MBBS, Kolkata, India Works at Apollo Gleneagles Hospital, Kolkata 26 years of experience
Dr. Arundhati Chakraborty is a Radiation Oncologist, based in Kolkata with extensive 26+ years of experience.
Her area of key interests lies in Image-Guided Radio Therapy (IGRT), Intensity Modulated Radio Therapy (IMRT), Stereotactic Body Radio Therapy (SBRT), Stereotactic Radio Surgery (SRS), Stereotactic Radio Therapy (SRT), Treatment Of Central Nervous System Tumors, etc.
Dr. Arundhati is the Vice President of the Andhra Pradesh Association of Palliative Care and is a member of the Indian Medical Council.
The radiation oncologist is well-known among her patients because of her compassion and holistic approach. She has both national and international publications under her credit.
She is also actively invited as a guest speaker in scientific sessions, Meetings, CDE's, Worldwide conferences, and Seminars to talk about Intensity Modulated Radio Therapy.