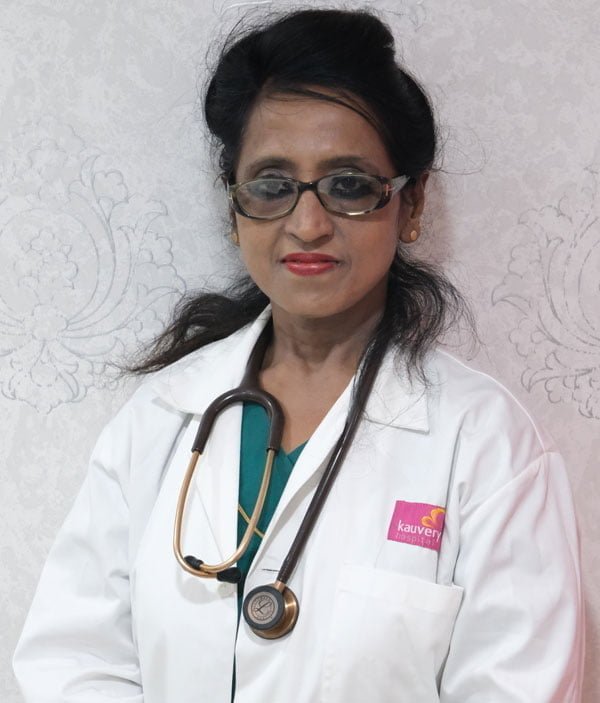 Medical Oncologist Nuclear Medicine, Radiation Oncologist, Surgical Oncologist Senior Consultant DM, MD, MBBS, Chennai, India Works at Kauvery Hospital, Alwarpet, Chennai 29 years of experience
Dr. Anitha Ramesh is highly skilled and one of the best Medical Oncologists having 29+ years of experience in this field.
She is adept in treating cancers by radiotherapy, targeted therapies like monoclonal antibodies and immunotherapies, removing tumors etc.
Her areas of expertise are Retinoblastoma, Breast and Cervical cancers etc.
She was Recipient of the "Realistic Award for Women 2018" for contributions in the field of Medicine Oncology.
She received the 2019 "Style Business Award" as a women entrepreneur.
She was awarded the prestigious 'IDEA "fellowship for being a promising cancer researcher by the American Society of Clinical Oncology (ASCO) in 2005.
She was awarded Scholarships funded by Commonwealth / Nottingham for MSc Oncology at Nottingham University, United Kingdom (2002 -2003) and International Society of Pediatric Oncology in 2001, Australia.
She was also bestowed with European Society of Medical Oncology grants/travel fellowships in 2002 and 2004 for 2 consecutive years.
She is also involved in Clinical Trials as Principal Investigator and physician for the Sanofi Aventis trial and as FDA audited Investigator.
She was designated as a Special fellow at the International Outreach Program at St Jude's Research Hospital, Memphis, USA in 2004.
She is a distinguished speaker in Oncology with more than 500 national and international presentations in different academic forums. 
She holds memberships of the International Society of Pediatric Oncology (SIOP), American Society of Clinical Oncology (ASCO), and European Society of Medical Oncology (ESMO).
Dr. Anitha pursued MBBS (1992) from National Medical College, Calcutta University, MD Radiotherapy (1997) from Banaras Hindu University.