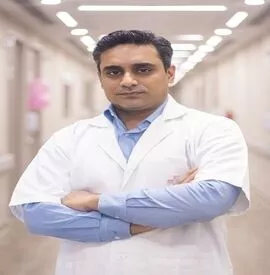 ENT Surgeon Senior Consultant MBBS, MS, Gurgaon, India Works at CK Birla Hospital, Gurgaon 15 years of experience
Dr. Anish Gupta is a well-known ENT Surgeon in Gurgaon having 15 years of experience.
Experienced in performing advanced ENT surgeries like laryngeal framework procedures, Endoscopic sinus surgery, cochlear implant, rhinoplasty, thyroidectomy, parotidectomy, and surgeries for head and neck tumors.
Performed more than 100 cochlear implants done at Army Hospital (R & R) during 2004-07.
Expert in managing ENT emergencies and cases of skull base osteomyelitis, foreign body in aerodigestive tract, epistaxis, and giddiness.
Honored by an award of recognition for humanitarian services to the people of Gombe State, Nigeria.
He is an active member of the Association of Otolaryngologists of India.