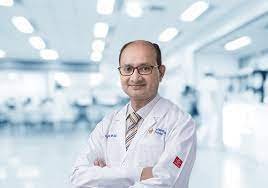 Radiation Oncologist HOD MD, MBBS, Bangalore, India Works at Manipal Hospital (Old Airport Road) Bangalore 20 years of experience
Dr. Vadhiraja B.M is a Radiation Oncologist with a vast experience of nearly 20 years.
He is specialized in procedures such as 3D Conformal Radiation, Intensity Modulated Radiotherapy, Image Guided Radiotherapy, Stereotactic Radiosurgery, Stereotactic Body Radiotherapy, Volumetric Modulated Arc Therapy, and Interstitial and Intracavitary Brachytherapy Procedures.
He was awarded Fellowship for the first meeting of Young Radiation Scientist in Asia in Hiroshima.
Dr. Vadhiraja completed his MBBS in 1995 and MD from Manipal University in 2000.
He is a member of Karnataka Medical Council.
He is also an eminent author, and has more than 25 publications in national and international journals.