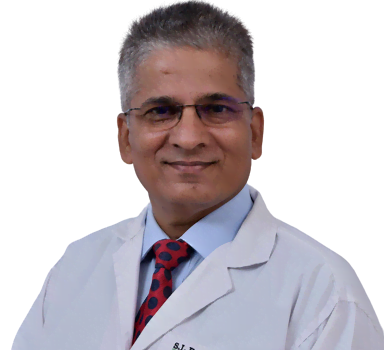 Endourologist Urologist Senior Consultant MCh, MS, MBBS, Mumbai, India Works at Fortis Hospital, Mulund, Mumbai 20 years of experience
Dr. Suresh Bhagat is a Urologist with 20+ experience.
His expertise lies in Endourology, Reconstructive (simple and complex) urology, Uro Oncology, Laparoscopic urology, and Renal Transplantation (Live related and Cadaveric), Urinary Tract Infection (UTI), Transurethral Incision of The Prostate (TUIP), Vascular Surgery, Blood in Urine (Hematuria) Treatment, Minimally Invasive Urology, Neurourology, Circumcision, Varicocele Surgery, Lithotripsy, Male hypogonadism, and Subincision.
Dr. Bhagat is a member of the American Urological Association, European Association of Urology, Indian Society of   Organ Transplantation, Indian Medical Association, Mumbai Urological Society, and Urological Society of India.
He has operated over 450+ renal transplants successfully and has graduated from the prestigious Tamil Nadu Dr. M.G.R. Medical University (TNMGRMU) followed by MCh in Urology from the well known Christian Medical College & Hospital, Vellore.