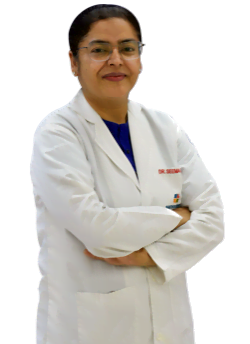 Gynaecologist and Obstetrician Infertility Specialist Senior Consultant Diploma, MRCOG, MD, MBBS, Faridabad, India Works at Sarvodaya Hospital, Faridabad 23 years of experience
Dr. Seema Manuja is an obstetrician and gynecologist with 23+ years of experience.
She is a life member and Hon. Secretary at Faridabad Obst & Gynae Society, life member of Indian Menopause Society and member of IAGE.
Her areas of expertise include Endoscopic Minimal Invasive Gynecology, Infertility, Recurrent Pregnancy Loss, High-Risk Pregnancy and more.
She has won many awards, including:

Red Best Paper Award
Yuva FOGSI 2004
Gold Medal in Obst & Gynae
Gold Medal in ENT
Gold Medal in Preventive & Social Medicine
1st position in final Professor Exam MBBS

She completed her MBBS from J.N Medical College, UP, MD in Obs & Gynaecology from JN Medical College, UP, MRCOG from Royal College of Obs & Gynae, UK and Diploma in Advanced Laparoscopic Surgery from Sunrise Institute, Kochi.