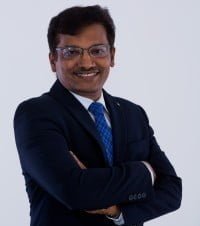 25 years of experience, Surgical Oncologist Director MBBS, MS, MCh, Fellowship, Chennai, India
Dr. S. Raja Sundaram is one of the renowned & respected Surgical Oncologists in Chennai, India.
With an experience of over 25 years, he has successfully conducted more than 18,000 cancer surgeries of various complexities including complex Head & Neck surgeries with microvascular reconstruction, Laparoscopic GI & Gynaec – Onco Surgeries, etc.
He is well known for his complex thyroid surgeries.
Dr. Sundaram has completes his MBBS & MS in General Surgery from the prestigious Madras University. Following which he did his MCh at the reputed Dr. Muthulakshmi College of Oncological Science.
He has laid down the foundation for establishing Sundaram Cancer Centre in Chennai to provide comprehensive cancer treatment to his patients.