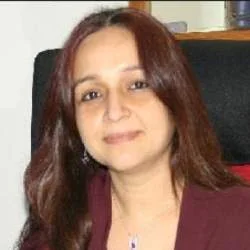 Ophthalmologist Glaucoma Surgeon, Director MS, MBBS, Mumbai, India Works at Centre for Sight Eye Hospital, Juhu Vile Parle 29 years of experience
Dr. Rupal Shah is a highly experienced, acclaimed and a respectable Ophthalmogist with +29 years of experience in the field of ophthalmological procedures.
She holds professional memberships of the American Society of Cataract and Refractive Surgery and the International Society of Refractive Surgery (American Academy of Ophthalmology).
Dr. Shah completed her MBBS from Topiwala National Medical College, Bombay University in 1992 and then MS in ophthalmology. She then took up refractive surgery from Germany. 
She specialises in  ReLeX and Blade Free LASIK laser vision correction eye surgery. As one among the pioneers of the laser refractive surgery technique, she is among the first surgeons in the country to have performed this procedure starting in 1994. She has also done pioneering work on  ReLEx  procedures, like FLEx (Femtosecond Lenticule Extraction) and SMILE (Small Incision Lenticule Extraction). Dr. Shah is also reputed for her work on Photo Therapeutic Keratectomy (PTK) and also on Presbyopia Correction with the use of the excimer laser and sceleral spacing implants. 
Dr. Shah has performed +25,000 laser procedures and other procedures to get rid of their need to wear spectacles and contact lenses.
She is an active and a dedicated academician and amentor. Under her guidance, more than 600 ophthalmologists have received training and mentoring while performing their first LASIK procedure.  
She has received awards for paper presentations, her achievements in the field and for her practice. She was featured among the 25 women to have made a difference to Indian ophthalmology by the Ophthalmology World Report Magazine.
Dr. Shah has her articles published in several peer-reviewed medical journals. She has also written chapters, prefaces and introductions in well-known international books.