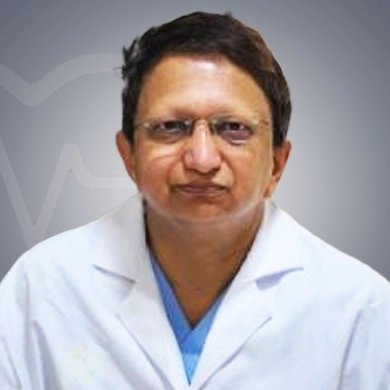 Interventional Cardiologist Senior Consultant MBBS, DM, Bangalore, India Works at Apollo Hospital (Bannerghatta Road) Bangalore 35 years of experience
Dr. Ramesh B is an eminent Interventional Cardiologist based in Bangalore, India with 35+ years of experience in the field.
He has performed more than 5000 angioplasties, 500 Device closures for Atrial Septal defect, and over 7000 Balloon Mitral Valvotomies.
He is also the only doctor in India who has performed 132 Percutaneous Transluminal Septal Myocardial Ablation for Hypertrophic Obstructive Cardiomyopathy, which is the largest number in the country.
Dr. Ramesh has extensive experience in Angioplasty, Implantable Cardioverter Defibrillator, Transesophageal Echocardiogram, Permanent Pacemaker, Catheter Ablation, Mitral Valve Repair, Balloon Mitral Valvotomy, Arrhythmia Treatments, etc.
He has received the Best Paper Award in the Cardiology Section for his presentation on "Estimation of PA pressure by VSD Gradient – Haemodynamic Doppler Correlation".