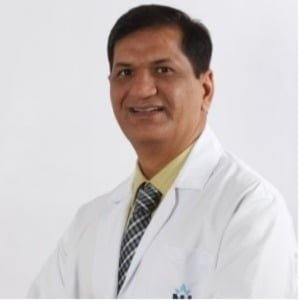 Dr. Rajesh Kumar Verma Spine Surgeon Orthopaedic and Joint Replacement Surgeon, Director MBBS, MS, Fellowship, Fellowship, Gurgaon, India Works at W Pratiksha Hospital, Gurgaon 25 years of experience
Dr. Rajesh Kumar Verma is a renowned Orthopaedic Surgeon who specializes in Spine Surgery.
He holds 25+ years of rich experience in his field.
He performed a maximum number of percutaneous spine surgeries like Kyphoplasty, Disc Excisions using state-of-the-art Joimax TESSY's system, Nucleoplasty, SpineJet Hydrodiscectomy, and Pain Management procedures using radiofrequency techniques.
He has been a part of more than 24000 surgical cases, personally performing over 15,000 surgeries including all types of Spine surgeries, Joint Replacements, Pediatric Orthopedics, and Complex Trauma Surgeries. 
He is one of few leading spine surgeons performing motion preservation and dynamic spine surgeries instead of spine fusions.
He was awarded Best Orthopaedic Surgeon in Gurugram 2010 by Big Brands Research Group.