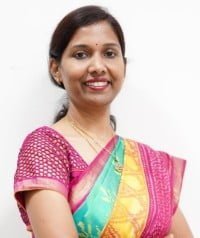 Gynaecologist and Obstetrician IVF Specialist Head of Department MBBS, MS, Diploma, Chennai, India Works at Gleneagles Global Hospital, Chennai 18 years of experience
Dr. Padmapriya Vivek is a renowned Gynecologist, Obstetrician, and Infertility Specialist practicing successfully for more than 18 years.
She is extremely proficient in handling High-risk Pregnancies, and Pregnancies with Diabetes and Hypertension.
She also offers treatments related to Fertility like IUI, IVF, ICSI and carries out Laparoscopic Surgery efficiently.
Besides, she provides treatment for Menstrual Disorders in Adolescent Girls, Uterine Fibroid, Uterine Bleeding, Menopause, Unilateral Salpingo-Oophorectomy, Endometriosis, etc. 
In the short span of her career, she holds the astounding record of 90% Normal Delivery including 10,000 childbirths.
She toiled for more than 90 hours in delivering 17 babies safely in the 2015 Chennai appalled floods.
During the emergency period of the 2015 Chennai Flood, she worked 90 hours at a stretch and helped 17 babies to be born safely.
She is a member of the Indian Medical Association (IMA).
She has presented papers at numerous conferences.