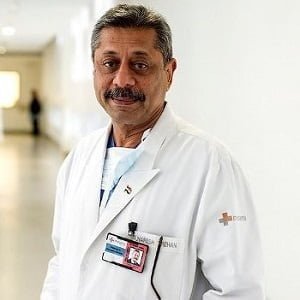 Cardiac Surgeon Chairman MBBS, Gurgaon, India 40 years of experience
Dr. Naresh Trehan is one of India's most successful Cardiovascular and Cardiothoracic Surgeons with experience of over 40 years
Dr. Naresh has performed over 48000  cardiac surgeries.
He is the founder of the Escorts Heart Institute & Research Centre.
Dr. Trehan's expertise lies in cardiothoracic surgeries like Cardiomyoplasty, myocardial total arterial revascularization, transmyocardial laser revascularization, Reduction ventriculoplasty (Batista Operation), Heart port access surgery, aortic valve surgery, and robotically-assisted cardiac surgery.
Dr. Trehan also specializes in Cardiovascular diseases and Cardiothoracic surgery like thoracic surgeries including chest wall defects, heart attacks, heart failure, video-assisted minimally invasive cardiac surgeries, heart disease, lung cancer, etc.
For his Medical school, Dr. Naresh went to King George's Medical University, Lucknow in 1968, followed by doing Diploma studies in cardiothoracic surgeries from the American Board of Surgery, USA.