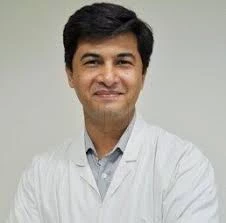 Cardiac Surgeon Chief MBBS, MD, MCh, Gurgaon, India Works at Paras Hospitals, Gurgaon 11 years of experience
Dr. Mahesh  Wadhwani is a renowned Paediatric and Adult Cardiac surgeon and has an experience of more than 11 years.
He has expertise in  Heart Failure Surgery, Heart Transplant, Congenital Heart Surgery, neonatal heart surgery, Off-pump beating heart bypass surgery, and Minimally invasive heart surgery.
Dr. Mahesh  Wadhwani is an active member of the Indian Association of Cardiothoracic Surgeons and Pediatric Cardiac Society of India.
Till now, Dr. Wadhwani has successfully performed over 6000 major heart surgeries.
He has also command over the treatment of Patent ductus arteriosus (PDA), Coarctation of the aorta, Atrial septal defect (ASD), Ventricular septal defect (VSD), Tetralogy of Fallot, and Total anomalous pulmonary venous return.