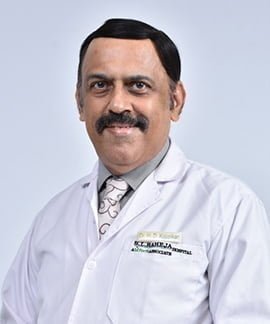 Ophthalmologist Consultant MS, MBBS, Mumbai, India Works at S. L. Raheja Hospital, Mumbai 40 years of experience
Dr. Hemang Koppikar is one of the leading Ophthalmic Surgeons at S L Raheja Hospital.
He did his M.B.B.S. and M.S. (Ophthalmology) from Bombay University in 1981 and 1985 respectively.
He received the Dr. V.H. Majumdar Prize for standing 1st in the M.S. Ophthalmology.
His areas of expertise are Retinal Disorders.
He is specialized in Laser treatments and management of Retinopathy.
He received special training in Laser Photocoagulation under Dr. Kanti V Mody, Dr. Ashok C Shroff of Jaslok Hospital, and Dr. Peter Hamilton of Moorfields Eye Hospital, the U.K. in 1987.
The doctor set up the department of Retinal Laser treatment in 1989.
Also, he started Fundus Fluorescein Angiography and Retinal Photography at the Lotus Eye Hospital, Juhu, and thus has 28 years of experience in Lotus Eye Hospital, Juhu. Pioneered the use of Slit-Lamp Videography for the instantaneous "LIVE" Audio-Visual record of the total condition of the patients' eye.