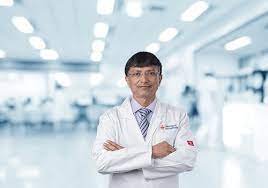 Nephrologist Consultant DNB, MD, MBBS, Bangalore, India Works at Manipal hospitals Life's On, Whitefield 35 years of experience
Dr. G K Prakash is a leading nephrologist in Bangalore with over 35 years of experience.
He specializes in all aspects of general nephrology, hemodialysis, and transplantation, and he previously served as president of the Nephrology Association of Karnataka for four years.
Dr. G K Prakash is also the Unit Medical Head and Clinical Coordinator of the Manipal Northside Hospital's Medical Advisory Board in Bangalore.
He has worked as a Nephrology Doctor and has honed his skills and experience in the field. 
Dr. GK Prakash earned his MBBS in 1986 from JagadguruJayadeva Murugarajendra Medical College in Davangere, Karnataka, his MD in 1991 from BangaloreMedical College and Research Institute in Bangalore, and his DNB Nephrology in 1999 from Apollo Hospitals in Chennai.
Dr. G. K. Prakash has been a member of the Karnataka Medical Council since 1986.
He is fluent in languages like English, Hindi, and Kannada.