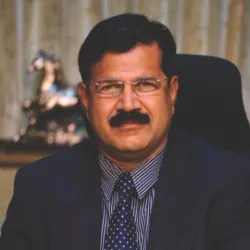 Surgical Gastroenterologist Advanced Laparoscopic, Minimal Access and Bariatric Surgeon, Urologist and Andrologist Director Fellowship, MS, MBBS, Chennai, India Works at Prashanth Multi Speciality Hospital, Chennai 42 years of experience
Dr G. Gopalaswamy is one of the best Laparoscopic Surgeons and Andrologists in Chennai with experience of 42 years in the medical field. In fact, he was awarded the "Best Doctor" by Dr M G R Medical University, Tamil Nadu.
As an Andrologist, his expertise lies in retrieving sperms from azoospermic men through a specialized technique TESA – ICSI; he is also involved in counselling, assessing and treating the male partner medically and/or surgically depending on the case.
In addition, he specialises as a surgical Gastroenterologist.
He has a Fellowship from the Royal College of Surgeons, Glasgow.
He had worked at different well-known hospitals in the UK like the King's College Hospital, the Royal Marsden Hospital, UK.
He received training on "Essentials of Laparoscopic Surgery" at Cuschieri, University of Dundee, UK.
He is involved with Prof ME Bailey, a pioneer in Laparoscopy Surgery in teaching Advanced level Laparoscopic Surgery to other Surgeons.
Dr Gopalaswamy also delivered lectures at national and international forums.
He is a member of the Medical Council of India (MCI).
He was also the First Indian Medical Paratrooper.