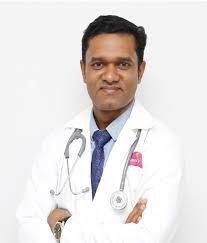 Spine Surgeon HOD MBBS, MRCP, FRCS, MD, Chennai, India Works at Kauvery Hospital, Alwarpet, Chennai 24 years of experience
With more than 24 years of expertise, Dr. G. Balamurali is a renowned Spine surgeon.
He specializes in minimally invasive and endoscopic spine surgery, Spinal cord tumour surgery, Paediatric spine surgery, Brachial plexus (DREZ) lesioning and other pain procedures, Complex spine surgery and Deformity spine surgery and has received numerous awards for his contribution to the medical industry.
He is a member of the Indian Medical Association, the American Association of Neurological Surgeons (AANS), the Association of Spinal Surgeons of India (ASSI), the International Spinal Cord Society (ISCS), the Neurological Society of India (NSI) and more.
Dr. G. Balamurali has completed his MBBS (1997) from Bangalore University, India. and MS (General Surgery) from the JIPMER, Pondicherry, India.
He obtained his MD (Neurosurgery) from the University of Central Lancashire, Preston, UK.
He has a fellowship in MRCP (UK, 2001) and FRCS (UK, 2008).
He is the author of various papers and publications.
Dr. G. Balamurali is well-versed in Tamil and English.