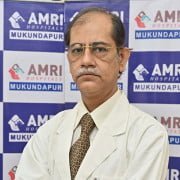 ENT Surgeon Consultant MBBS, Diploma, DNB, Kolkata, India Works at AMRI Hospital, Kolkata (Mukundapur) 26 years of experience
Dr. Dhrubo Roy is a renowned Otorhinolaryngologist and has experience of more than 26 years.
He has expertise in the treatment of Airway problems, Chronic sinusitis, Cleft lip & cleft palate, Deviated nasal septum, Drooping eyelids, GERD, Hearing loss, Swallowing disorder, Tinnitus, Tonsil or adenoid infection, Vertigo and dizziness, and Voice disorders.
He has command over the surgical procedures which include Neck dissection, Myringotomy, and pressure equalization (PE) tube placement, Surgery for snoring or obstructive sleep apnea (OSA), Thyroid Surgery, Tonsillectomy or adenoidectomy, Tracheostomy, and Tympanoplasty.
He is an active member of the National Academy of Medical Science, Association of Otolaryngologists of India (AOI), and Association of Phono Surgeons of India (APSI).
He has publications in both International as well as national journals.