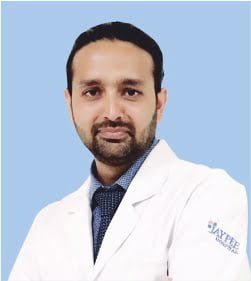 Spine Surgeon Consultant Fellowship, Fellowship, MBBS, Noida, India 14 years of experience
Dr. Devashish Sharma is a noted and highly-qualified Spine Surgeon with +14 years of experience in the field of spine surgeries. He is among the top-rated surgeons in north India for his expertise in endoscopic, minimally-invasive and complex spine surgeries.
He is a professional member of the, Indian Medical Association and the Agra Orthopedic Society.
Dr. Devashish Sharma did his MBBS in 2011 from Himalayan Institute of Medical Sciences, Jolly Grant, Dehradun, Uttarakhand, followed by PG training at Santosh Medical College & Hospitals (SMCH), Uttar Pradesh. In 2019, he did his fellowship at SRH Klinikum, Germany and is certified in the TESSYS technique from Austria. He was also a visiting fellow at the New York Presbyterian Hospital, USA. He received training at the Northwick Park Hospital & Central Middlesex Hospital, UK.