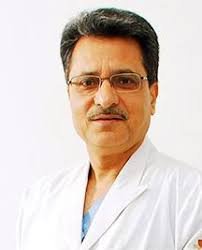 Hematologist Medical Oncologist, Pediatric Hematologist Chairman MBBS, MD, DM, Gurgaon, India Works at Medanta - The Medicity, Gurgaon 35 years of
Currently associated as a Chairman of the Division of Medical & Paediatric Oncology, Haematology & Bone Marrow Transplant at Medanta Hospital, Gurgaon.
He completed his MBBS from Jammu University in 1984, followed by doing DNB in internal medicine and DM Medical Oncology in 1993.
He did his Senior Residency at Govt. Medical College, Jammu from 1987 to 1989.
Previously worked as the Head of the Department of Medical Oncology, Artemis Health Institute, Gurgaon.
Awarded the Padma Shri, the fourth highest civilian award, by the President of India, for contribution to the field of medicine on 14th April, 2009.
Member of prestigious organizations like the Breast Cancer Foundation of India, Member of Indian Society of Medical & Pediatric Oncology (ISMPO), the Indian Association of Gynaec Oncologists, Indian Medical Association, the American Society of Clinical Oncology, the Association of Physicians of India, and many more.
Additionally, Dr. Ashok has been the founder member of Indian Cooperative Oncology Network (ICON), a life member of European Haematology Association, and the European Society of Medical Oncology.
He has the unique distinction of having carried out the first 25 bone marrow transplants in any private-sector hospital in North India.
Dr. Ashok has attended several workshops and conferences so far in the field of medical oncology.