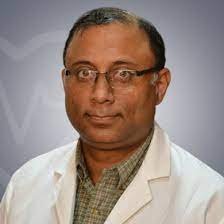 Neurologist Paediatric Neurologist Consultant MD, Diploma, MBBS, Kolkata, India Works at AMRI Hospital, Kolkata (Mukundapur) 35 years of experience
Dr. Arijit Chattopadhyay is a Pediatric Neurologist, Neurologist and Pediatrician in Kolkata and has experience of 35 years in these fields.
He completed MBBS from Medical College (CU) in 1987, Diploma in Child Health (DCH) from College of Physicians & Surgeons, Bombay. in 1994 and MD (Paediatrics) from University Of Bombay in 1994.
He holds certification in CCST in Paediatric Neurology at Royal College (UK), 2003.
Some of the services provided by the doctor are Cerebral Palsy Treatment, Pediatric Neurosurgery, CSF Rhinorrhoea Repair Surgery and Pediatrics etc.
Various research articles and papers were submitted in national and international journals in his name.