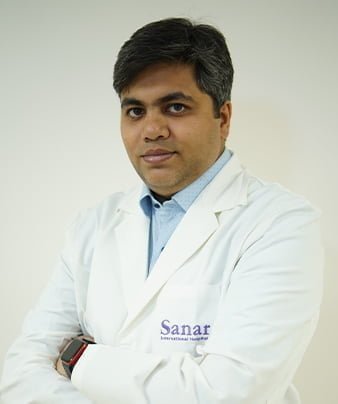 Surgical Oncologist Associate Director MBBS, MS, Gurgaon, India Works at Sanar International Hospital 18 years of experience
Dr. Archit Pandit is an experienced Surgical Oncologist with more than 18 years of knowledge and skills.
Laparoscopic and robotic surgical treatment of GI cancers thoracic cancer and gynaecological Cancer are his fortes.
He is a member of the Indian Society of Oncology, the Delhi Medical Council and the Indian Medical Association.
Dr. Archit Pandit has completed his MBBS (2004) and MS (2008) from KLE's Jawaharlal Nehru Medical College, Belgaum. 
He received Fellowship (2012) in Laparoscopic and Robotic Surgical Oncology from Galaxy Care Hospital, Pune.
He has been trained in surgical oncology at the All India Institute of Medical Sciences (AIIMS), New Delhi.
He is the author of various papers and publications.
Dr. Archit Pandit can talk in English, Hindi, Marathi and Punjabi.