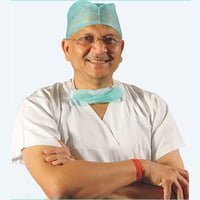 Infertility Specialist IVF Specialist Director MBBS, New Delhi, India Works at Delhi IVF and Fertility Centre, New Delhi 24 years of experience
Dr Anoop Kr Gupta is a renowned Infertility specialist in Delhi.
With decades of experience, he has successfully delivered 10000+ ART Babies till March 2016.
Dr Gupta has attended training course on infertility & blastocyst culture in Singapore, a special 2 months training course on ICSI in Liverpool women hospital UK in & multiple fellowship in US and Australia.
He is famed for delivering first millennium test tube baby in 2000 and also to deliver IVF triples to a 64 years old female.
Dr Gupta has pioneered in delivering IVF Baby through Blastocyst Transfer.
Dr Anoop Kr Gupta is an active member of some of the most eminent organisations like ESHRE (European Society of Human Reproduction & Embryology), ASRM (American Society of Reproductive Medicine) and UNFDPA (United Nation Family Development Programme).