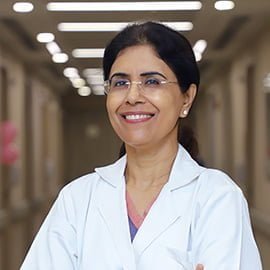 Gynaecologist and Obstetrician Head of Department MD, MBBS, Gurgaon, India Works at CK Birla Hospital, Gurgaon 30 years of experience
Dr. Anjali Kumar is a gynecological endoscopic surgeon with 30+ years of experience.
She has developed a technique known as "Reverse Uterine Closure technique" for suturing very thin lower uterine segment and is accepted at Apex national Conference (AICOG) as Kumar's Technique.
She has been contributing to society through electronic and print media and has featured in various talk shows by NDTV, Doordarshan, Khabrein Aaj Tak, etc.
Dr. Kumar has authored a book on pregnancy, 'I am Blessed and a small booklet on breastfeeding.
She has successfully handled a lot of VBAC (Vaginal Births After Cesarean) cases.